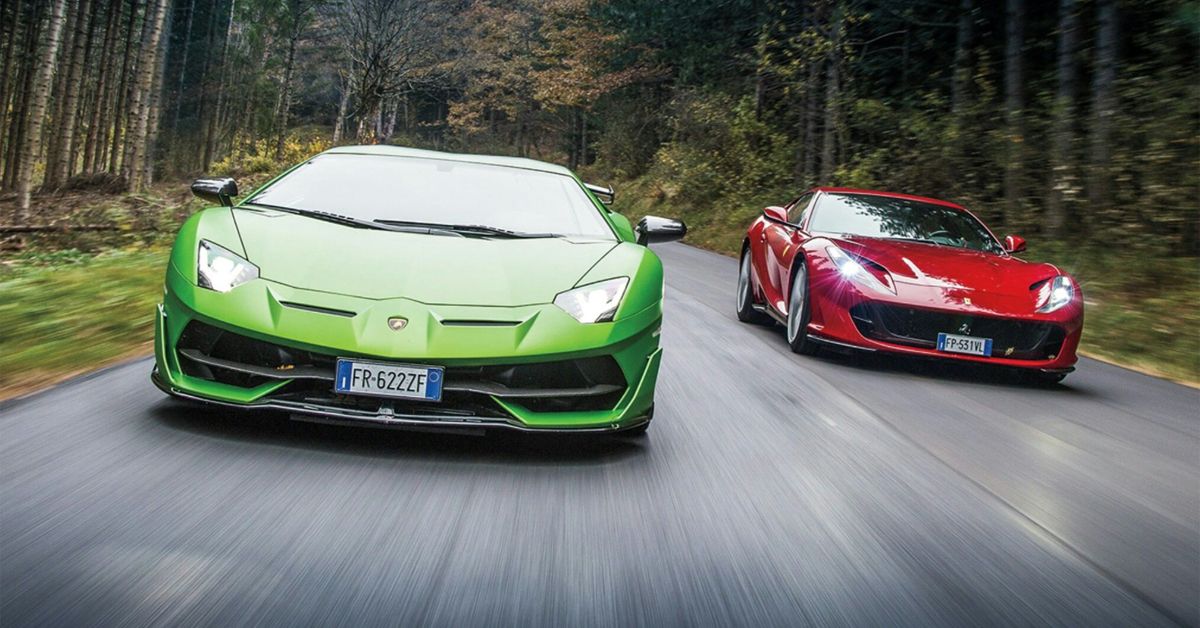 This Is Why The Italian Government Are Trying To Save Ferrari And Lambo
With all-electric motoring approaching faster and faster, car manufacturers have made their moves to be
With all-electric motoring approaching faster and faster, car manufacturers have made their moves to be able to survive in this new motoring epoch that is charged with excitement. In response to luxury brands like Tesla pushing their wares, brands like BMW have adapted with the additions in their i series, the same with Porsche introducing the Taycan, Audi with its E-Tron line up, and even Mercedes now have the EQS. These changes have been coming for a long time, and supercar manufacturers have been adapting.
The last generation of hypercars, the Mclaren P1, Porsche 918 Spyder, and La Ferrari, all swapped to hybrid drivetrains with downsized engines. This is set to continue with the Mercedes-AMG Project One and the Koenigsegg Gemera, the latter has a tiny three-cylinder engine.
The trend across all segments of the car market is towards smaller engines with forced induction, eventually paving the way for total electrification after 2030. However, a few manufacturers have ignored this Aston Martin, Rolls-Royce, Ferrari, and Lamborghini all still have large V12 engines in production, although most of their line ups are now reliant on more economical V8 units.
Smart Transport reported that in the United Kingdom, the sale of new internal combustion-engined cars would be banned in 2030 and hybrids in 2035. This movement is happening worldwide, and the sale of new cars with internal combustion engines will be banned in the EU in 2035. This leaves those manufacturers like Ferrari and Lamborghini without a part of their soul.
The Italian Government are lobbying for their favorite marques to be exempt from the new regulations.
RELATED: Here's How The Ferrari SF90 Stradale Offers A Ride In Silence
Avoiding Regulations
It's not uncommon for manufacturers to lobby for regulatory changes. Electrek recently reported that Renault, the French giant of motoring are trying to get a five-year extension to the ban in the EU until 2040.
The brand claim that the 2035 deadline is problematic as the cost of an electric vehicle will be too high for many in 2035. This is in keeping with Renault's latest announcements in their Renaultion plan which will see electric vehicles come to their budget brands, Dacia and Lada. It is completely different for a government to step in and request an exemption for a relatively unimportant company economically. Bloomberg reports that in 2020 Lamborghini sold 7,400 cars Ferrari 9,100.
The official Ferrari corporate website lists that they have 4,556 employees, for comparison Statista lists that Fiat employee 198,512 in 2020. The outlet also says that "Mario Draghi's government is in talks with the European Union on shielding supercar makers from the phase-out". Bloomberg continue to quote the statement they were given, "One important step is that Italy gains autonomy in producing high-performance batteries", the Italian manufactures are proud of their total control over the customer's product, especially these days when cars are built across borders and see the frequent shipping of components across borders.
They continue to write that Italy is looking towards building a battery giga-factory that could produce the parts to power electric supercars. The argument has been placed by the Italian Environment minister that the total emissions from such small manufacturers aren't a problem in comparison to global emissions. It was pointed out by Electric that Cingolarni, the minister used to work at Ferrari.
Ferrari currently have the SF90 Stradale, their first Plug-in-hybrid vehicle on sale, hybrid technology is making its way across the range and earlier this year Driving Electric reported that Ferrari is planning on launching their first fully electric vehicle in 2025 but it may be too little too late as long time rival Porsche may have gotten too far ahead, leaving the prancing horse on the back foot.
RELATED: Here's Why The Ferrari 308 GTE Is Our Favorite Electric Car Conversion
Why Ferrari And Lamborghini Matter
This news would make most enthusiasts ecstatic, after all, within the range of Ferrari and Lamborghini, there is a car to cater to almost everyone through grand tourers, hypercars and elegant looking classics. The attempt to make the Italian Manufacturers exempt from the incoming restrictions has met a negative response from Porsche.
The Stuttgart based manufacturer's CEO Oliver Blume spoke with Bloomberg and this has been reported on by other outlets such as The Drive, that electric supercars will de triumphant, but with Porsche having invested heavily in Electric technology to support both their hybrid racing endeavours and the Taycan project this has to be their stance. However, for the Italian government, the large technological change that is the movement toward electric cars does threaten companies like Ferrari and Lamborghini which are deeply entwined with the engines beneath their bonnets.
In Forbes' article Fourteen Interesting Facts About Ferrari That Every Car Enthusiast Should Know, the brand's reliance on the V12 power unit is heavily stressed. Enzo Ferrari is quoted as having said, "I build engines and attach wheels to them", the engine is inseparable from these supercars and the Italian government understand this.
These two marques may not be the oldest in Italy, Alfa Romeo and Maserati are both older but they represent Italy on the global stage. According to Ferrari corporate, the manufacturers has over 170 dealers in 60 different countries, these cars are an export that showcases the prowess and cultural success of Italy which is otherwise just another Mediterranean country.
This Is The Coolest Feature Of The Harley Road King
The Road King is an archetypal Harley-Davidson motorbike with a vintage appearance that genuinely appeals to purists.
Read Next
About The Author