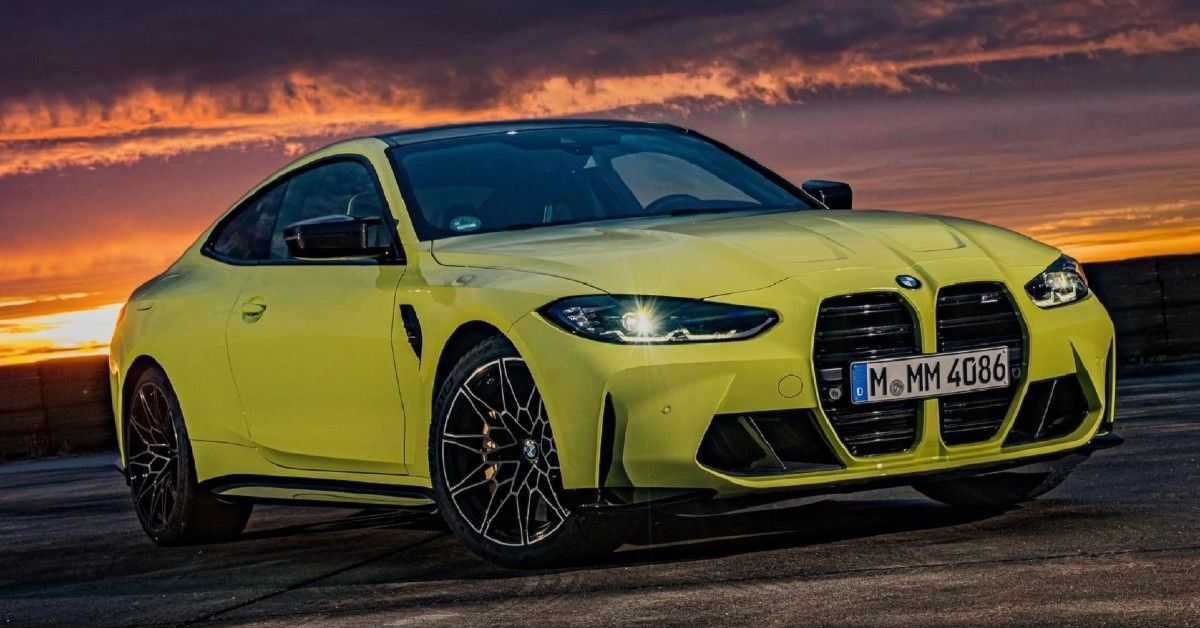 These Are The Things That Make The 2021 BMW M4 Awesome
BMW's legendary "M" badge first appeared in 1978 with the iconic M1 supercar, kick-starting what
BMW's legendary "M" badge first appeared in 1978 with the iconic M1 supercar, kick-starting what has become almost a stand-alone brand in its own right, sedans, coupes, and even SUVs given the M-Sport makeover.
This brings us to the current BMW M4, a performance car to rival supercars in terms of both handling and speed, all while comfortably seating four adults. On the face of it, a devastatingly capable sports car with two personas. With a little self-restraint, you'd be hard pushed to tell the M4 was a dragster in disguise, soft suspension setting soaking up all but the deepest potholes and road imperfections. Here though lays the problem, experiencing the full potential just once, and you'll be sprinting from stoplight to stoplight, savoring the surge of acceleration, g-forces pushing you rearwards as a huge grin spreads across your face.
Admittedly, there is that odd, oversized double kidney grille to get past, but otherwise in every scenario the M4 is awesome. The way it goes, handles, and stops make it a contender for one of, if not the best coupe on the market today, all things to all gearheads, the M4 is stunning.
9


New Year, New Design?
BMWs first-generation M4 launched in 2014 might have been a reworked with a bit more power thrown in for good measure, but it worked and was a huge success, rivaling Mercedes-AMG's C63 S Coupe in terms of performance and refinement. Fast-forward seven years and from a technical point of view, things have moved on.
The latest M4, more powerful, more capable while every bit as engaging comes with a similar sticker price, although that's sure to rise with a few optional extras true to BMW form. It's on the outside things haven't gone down quite so well. BMW's new, larger double-kidney grille layout deployed across the range isn't quite the look of its predecessor. The car's color is going to be a make or break for those not wanting to draw attention to themselves, we'd opt for matte black.
8


Available In Two Flavors
In the yellow corner, BMW's M4 coupe packing a straight-six 3-liter turbocharged motor dishing out 473 hp, the German carmaker claiming a top speed north of 180 mph (artificially limited), with a sprint to 60 mph in a mere 3.8-seconds. In terms of everyday useable performance, anything more is surely bordering on the insane.
However, any previous thoughts of how much is enough are pushed to breaking point with the M4 Competition. BMW retained the same basic engine layout with a few custom tweaks, resulting in 503 hp shaving valuable tenths from the 0-60 mph time with a similar top speed.
RELATED: These Are The Best BMW Performance Cars Ever Made
7


Snap, Crackle, And Pop Soundtrack
Fans of previous M-badged specials are in for a treat, BMW's S58B30T0 engine, even with the addition of a brace of turbos, is still up there with the very best when it comes to aural stimulation. Forced induction can often muffle an engine's induction soundtrack, not so in the case of the M4, the famous turbine-esque cacophony of noise is still present.
Matched by a quad tail-pipe set-up with a vocal range of booms, bangs, pops, and crackles accompanied by a tone changing "M" button if things get a little too loud. Not that we can imagine any gearhead tiring of one of the best exhaust sounds of any production car, past or present.
6


Performance Carbon Add-Ons
Undeniably, it's the potent M-sport-tuned engines that are responsible for the M4's astonishing straight-line speed, but its weight distribution and low center of gravity that make the BMW quick through the corners. Across the range, both the M4 and Competition come as standard with factory-fitted carbon-fiber roof panels, less weight higher up helps to keep the M4's wheels planted through the corners.
Stopping is another kettle of fish entirely, and thankfully BMW's fade-free carbon-ceramic upgrade, vented and crossed drilled discs reins in the M4 from 100 mph to a standstill in 291 feet, one upgrade serious gearheads will want for sure.
5


Cooler Drop Top, Only In Competition Spec
Top-down performance thrills come with a caveat, BMW recently announced the arrival of the M4 Convertible in October, but only in Competition spec meaning gearheads are stuck at top of the range when it comes to pricing. However, all clouds have a silver lining, BMW opting for a lighter folding sort-top offsetting the mandatory underbody bracing weight penalty.
Related: Here Are The 10 Fastest Convertibles Ever
Further changes under the skin come as a mixed bag. No surprises for guessing the M4 Competition Convertible doesn't come with a manual transmission, a sole choice of BMW's 8-speed paddle operated automatic box coupled with xDrive, the only M4 model equipped with all-wheel-drive for the time being.
4


Tech-Lovers Interior
Drop-dead gorgeous exterior styling with muscular undertones is nothing compared to how the M4 looks and feels on the inside. Pop open the driver's door, and you're greeted by a cockpit stuffed with enough gadgets to keep even the nerdiest gearhead happy. Starting with the seats, carbon fiber buckets trimmed in multi-toned leather complete with ventilation and illuminated M4 logos.
Nothing so common as conventional gauges, the essentials directly ahead the driver on a crisp multi-function display gives the impression of a modern fighter cockpit, physical switchgear kept to a bare minimum.
3


Putting The Fun Back Into Driving
All this talk of high-tech gadgetry might be a cause for concern, after all, electronic intrusions into how we drive these days quite often lead to a less than thrilling driving experience. Fear not, BMW has this area covered too, delve into the M4's set-up option, and you'll come across the intriguingly titled drift analyzer.
Revision dynamic stability control over the outgoing M4 gives gearheads more freedom for some tail-out action, MDM on standby should things get too sideways, the drift analyzer rates your efforts for slip angle, time, and distance. Imagine explaining to local law enforcement officers "I am only attempting to get five stars".
RELATED: The Best Automotive Technologies Ever Invented
2


Supercar Bargain
Everything that makes the BMW M4 so desirable, from the prestigious badge to the storming supercar-rivaling performance, surely comes at a hefty price tag? Actually no, you can pick up the current 2021 spec car from $73,000, and with next year's model already announced we'd expect some dealers will be happy to throw in a few discount bonuses.
By comparison, Porsche's best effort, the Cayman 718 T comes with a less energetic turbocharged 2-liter flat-four motor good for 300 hp. Some way behind the M4 in both grunt and aural pleasure, you'd have to splash out a further $18k to keep up with the M4. Bavaria 1, Stuttgart 0.
1


Missed The Boat? Not Necessarily
Any potential M4 buyers fearing a change of year will bring more changes, price increases better or worse performance can rest easy. The only major change between now and the new year being the impending commencement of convertible deliveries, meaning the same BMW M4 powered madness can be had for the same money.
However, and this is a big one, BMW's 50th anniversary is fast approaching with rumors appearing concerning a special edition M4s for 2022, maybe a replacement M4 GTS or CSL?
9 Affordable Six-Cylinder Cars We'd Love To Drive
As car manufacturers are struggling to meet emission requirements, now is the time to get behind the wheel of these awesome 6-cylinder beasts!
Read Next
About The Author