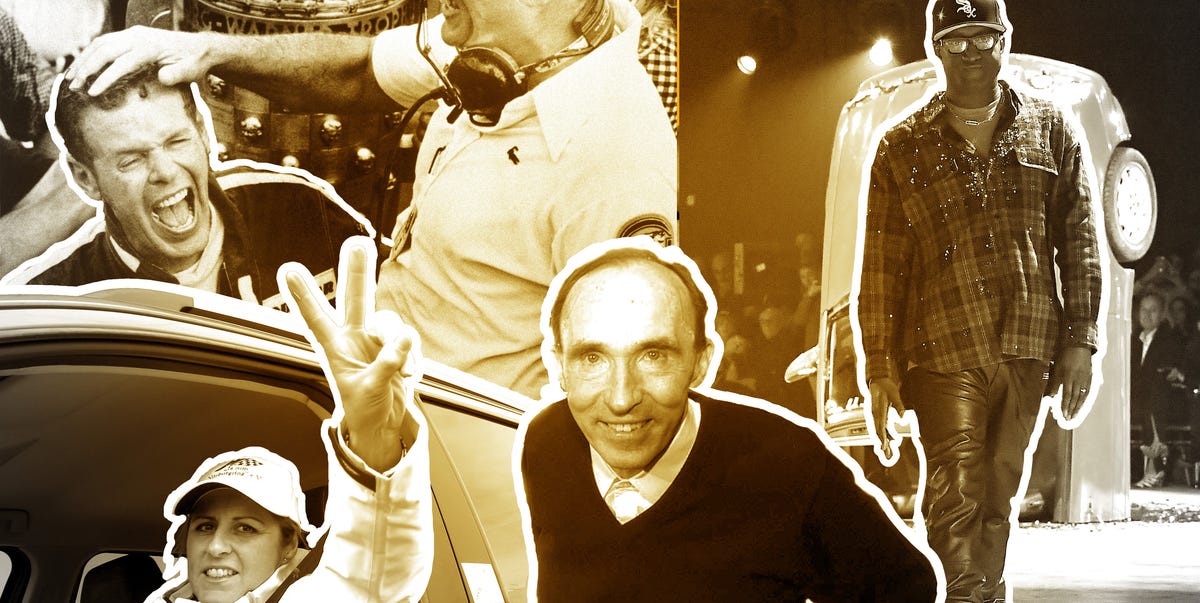 Remembering the Car People We Lost in 2021
picture alliance/Getty Images Here's some news no one will be surprised by: 2021 was tough
picture alliance/Getty Images
Here's some news no one will be surprised by: 2021 was tough on the automotive world as part of an already difficult year. The rituals and events we've grown used to were all subject to change or cancellation, and our lives in many ways were different from every year before. One thing did not change, however: we lost people whose lives, directly or indirectly, had an influence on our own. This is where we pay tribute to 16 people—executives, visionaries, designers, leaders, and drivers—who were important in automotive life. They will be remembered long after we've emerged from the current situation.
1
January: J.D. "Dave" Power III, Quality Control Surveyor (b. 1931)
Some names are so predominant that it's easy to forget they were originally attached to a person. That's the case with J.D. Power, who established the company that bears his name and is known for influencing automakers to build better cars. The "Associates" in the company name originally referred to his wife and kids, who helped get things rolling in 1968, asking car buyers about their thoughts on their car's quality using mail-in surveys. It turns out, asking people what they think is a good way to find out what others think, too, and a vehicle's J.D. Power score still plays an influential role in how people shop for cars.
2
February: Bruce Meyers, Dune Buggy Visionary (b. 1926)
You may know it as the dune buggy, but the original little sand racer was called the Meyers Manx, and Bruce Meyers was the man who designed it. A life full of sailing, surfing and art went into the person who thought it would be a good idea to take some fiberglass and parts from old Volkswagen Beetles and put them together into something that would scoot over sand to get to the out-of-the-way surf spots. Meyers originally intended to just build a few for himself and his friends, but the design was copied all over the world. Legal troubles meant the world has mostly forgotten the Meyers Manx name, but you don't have to.
3
March: Ryu Asada, Hot Wheels Designer (b. 1978)
Proving beyond doubt that size doesn't matter when it comes to automotive passion, Hot Wheels designer Ryu Asada loved little cars and he made others love them as well. A lifelong Honda fan, Asada turned vehicles as different as the S2000 and the N600 into beloved metal toys. For his Hot Wheels Porsche 944, he added an easter egg of a stethoscope that you can see through the rear window. It was a tribute to the car that belonged to one of the doctors helping him battle cancer.
4
March: Sabine Schmitz, 'Ring Leader (b. 1969)
Modern automotive television would have been much less enjoyable without Sabine Schmitz. Born and raised near the Nürburgring, Schmitz was perhaps destined to become a car person. She started racing young and became the first woman to win at the 24 Hours of Nürburgring in 1996 behind the wheel of a BMW M3. Her buoyant presence made her a natural for TV, and her first appearance on Top Gear in 2004 ended up being one of that show's most popular ever. She later became a host on that very program and was known far and wide as the "Queen of the Nürburgring."
5
April: Richard Parry-Jones, Ford Idea Man (b. 1951)
Richard Parry-Jones spent 38 years working at Ford Motor Company, helping change how people, especially in Europe, saw the company. Born in North Wales, Parry-Jones used his engineering skills to improve Ford's image following the European debut of the 1990 Ford Escort there. Famous for popularizing the idea that a good driver would know almost immediately if the car they're in was good or not—now known as the 50 Metre Test—Parry-Jones eventually became a product development vice president at Ford. After Parry-Jones died due to an accident on his farm in April, Ford executive chairman Bill Ford called him a "rare talent who left an indelible mark on Ford and the industry."
6
May: Bobby Unser, Larger-Than-Life Racer (b. 1934)
If you race enough times, you're bound to get entangled with some controversies. That happened to Bobby Unser (Al Unser Sr.'s brother) in the 1981 Indy 500, when stewards decided Unser had passed other cars while under a yellow flag. Decades later, Unser and second-place Mario Andretti (who was, for a short while, declared the winner of the race) both still felt like they'd won. Unser (pictured here with Dan Gurney) did win his fair share of unquestioned races, including 10 overall titles at the Pikes Peak International Hill Climb. Autoweek called him a true legend.
7
June: Jack Ingram, NASCAR Short-Track Hall of Famer (b. 1936)
When you win over 300 races in your life, including five NASCAR championships, you earn a place in the NASCAR Hall of Fame. That's what happened to Jack Ingram, who earned the nickname "Iron Man" for the tremendous number of races he competed in during the 1970s, when NASCAR championships could still be affected by the regular weekly race standings. Upon Ingram's death in June, NASCAR chairman and CEO Jim France said in a statement that Ingram "was a fixture at short tracks across the Southeast most days of the week, racing anywhere and everywhere. He dominated the Late Model Sportsman division like few others." Ingram wasn't just a winning driver. He was also named the Most Popular Driver in the Budweiser Late Model Sportsman Series (now called the Xfinity Series) in 1982.
8
September: Gordon Spice, Touring Car Champion (b. 1940)
Reading articles about Gordon Spice's life—the racing plus the wealthy-international-raconteur lifestyle—it's easy to be a bit jealous. Spice won the British Touring Car Championship for six seasons in a row (1975–1980) before winning four more world sports car championship titles in the middle and late '80s. After Spice died in September, a former rival told Autosport, "He was one of those rare guys who could afford to go racing and was good at it—usually you can afford to go racing, or you're good at it but don't have the money. He was a good fun guy to be around."
9
November: Bob Bondurant, Racer and Racing-School Founder (b. 1933)
Bob Bondurant was racing even when he wasn't on the track. He raced for Ferrari Formula 1 and Shelby and, for 50 years, taught everyday drivers how to get the most out of their sports cars through the Bob Bondurant School of High Performance Driving. He also showed actors Paul Newman, Tom Cruise, and Christian Bale a thing or two about driving. Unfortunately, the school mostly closed in 2018 before reopening in 2019 as the Official Performance Driving School of Dodge//SRT with the help of FiatChrysler, ensuring that his legacy lives on.
10
November: Sir Frank Williams, Formula 1 Royalty (b. 1942)
Longtime Formula 1 team owner Frank Williams could have passed away decades ago when he broke his neck in a car crash in 1986. The work of Dr. Sid Watkins, the "medical savior" of F1, kept him alive then, and the team he co-founded, the Williams Formula 1 team, continued its success through the 1980s and 1990s and beyond. The team still races today and, following Williams's death in November, a moment of silence was held before the Saudi Arabian Grand Prix as a tribute.
11
November: Virgil Abloh, Young Design Star (b. 1980)
For a few years prior to his death from a rare type of cancer, fashion designer Virgil Abloh worked with Mercedes-Benz on two design studies, the Project Geländewagen in 2020 and the Project Maybach, which was released following Abloh's death in November. The New York Times called him "the most powerful Black executive in the most powerful luxury group in the world" for his role as artistic director of Louis Vuitton menswear. He also started his own label, Off-White.
12
December: Al Unser, Originator of a Racing Dynasty (b. 1939)
Speaking to C/D in 2011, Al Unser, Jr., said his father's racing enthusiasm led to the entire family getting excited about fast cars, including brothers and all the way down to Al Unser III. That's the kind of passion that led to Al Unser, Sr., winning the Indianapolis 500 four times and getting behind the wheel of NASCAR and sprint cars, among other races.
13
December: Don Hudler, Who Crafted the Saturn Homecoming (b. 1934)
Donald Wiley Hudler was a General Motors man through and through, working at the company for 43 years. He served in marketing roles around GM including at Cadillac, then was president of Saturn from 1995 to 1999 and later became a GM VP. As the Chicago Tribune related, Hudler originated the idea of the 1994 "Saturn Homecoming" that enticed 38,000 Saturn owners and their cars to Spring Hill, Tennessee, for a giant party. Later in life he also owned Saturn, Cadillac, and Hyundai dealerships in Texas. So, a GM man almost through and through.
14
December: Shunji Tanaka, Original Miata Designer (b. 1945)
If there's one thing that's close to a universal truth in the automotive journalism world, it's that, no matter the question, the answer is always "Miata." We wouldn't agree on this if it hadn't been for Shunji Tanaka, head designer of the original Mazda MX-5, also known as the Miata. The MX-5 was certainly a team effort, but Tanaka's work refining the exterior and interior design have been hallmarks of the car since it debuted in 1989. According to one obituary, his last words were, "I have no regret in my life."
15
December: Hazel Chapman, Lotus Tradition Bearer (b. 1927)
Any fan of Lotus knows the name of its co-founder, Colin Chapman. Every Lotus fan with a bit more depth to their fandom also knows the name Hazel Chapman, Colin's wife and a successful race driver in her own right. When Hazel passed away in December, Lotus released a statement calling her "the rock upon which the Lotus foundations—since 1948, when the very first Lotus car was made—were built." The very first Lotus was built in Hazel's parents' garage well before she and Colin were married. Here she's pictured with drivers Elio de Angelis (in the Lotus 93T) and Nigel Mansell.
16
December: Jesse Alexander, Motorsport Photographer (b. 1929)
Racing photographer Jesse Alexander's work should be familiar to longtime readers of Car and Driver, considering we worked with him in the 1950s. As part of a C/D retrospective published in 2015, Karl Ludvigsen said Alexander "had a knack for pointing his camera at the most crucial action," and it was that kind of eye that helped him shoot what feels like a million races, starting with local events in his home state of California and then continuing all around the world.
This content is created and maintained by a third party, and imported onto this page to help users provide their email addresses. You may be able to find more information about this and similar content at piano.io