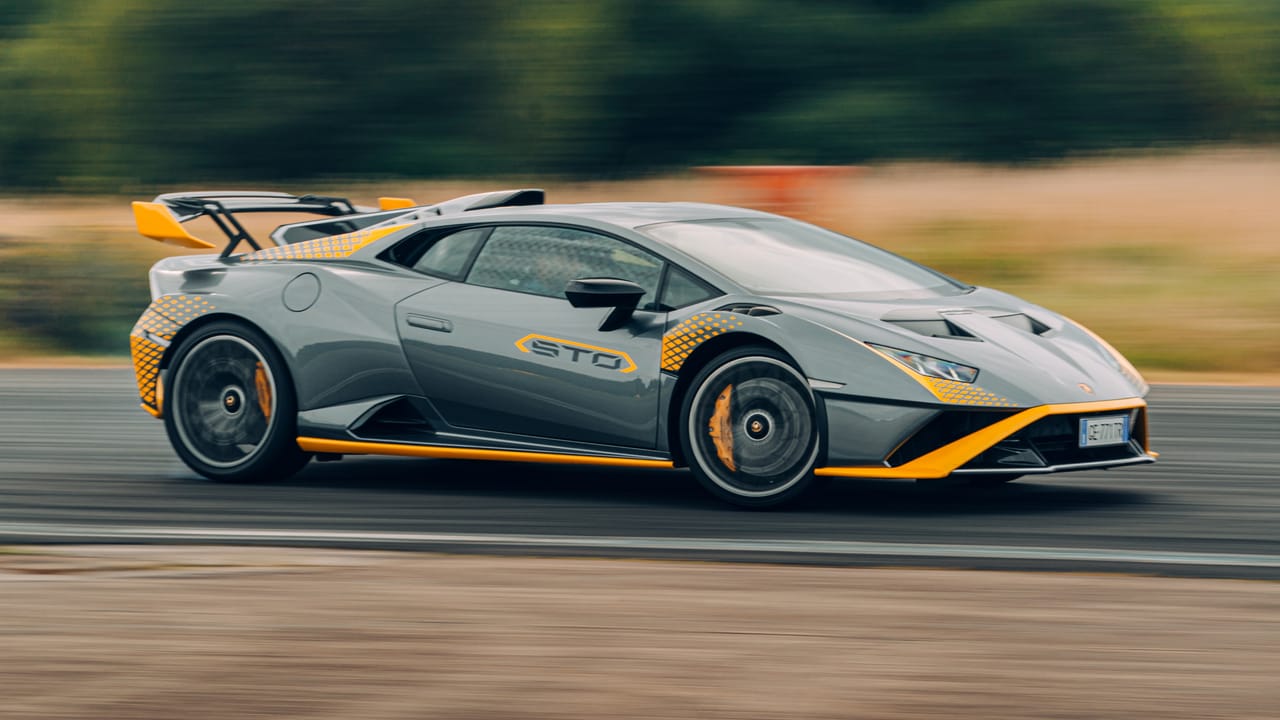 Lamborghini Huracán STO review: hardcore supercar on track Reviews 2021
First of all, remind us of what this is all about then? It's about as
First of all, remind us of what this is all about then?
It's about as subtle as a punch in the eyeball is what it is. Lamborghini's most track-attack Huracán ever, descended from the DNA of the Super Trofeo race cars – hence the 'STO' name (Super Trofeo Omologata) – and a road car that Lamborghini thinks is more biased toward a circuit than a street. Which is handy, because we've got lots of time on track.
To condense what is a bit of a visual overload into something that makes sense, the STO is a rear-drive only Huracán that's 43kg lighter than the Huracán Performante, a car that has been shuffled for more response, heavier aero and more commitment. Numbers? Some 53 per cent increase in downforce over the Performante, up to around 450kg at 175mph. And it has a shark fin that apparently keeps the air straight over the (manually adjustable) rear wing, and aids 'yaw stability' during high-speed excessiveness. We like the shark fin.
Advertisement – Page continues below
Magnesium wheels, extra carbonfibre body panels (75 per cent of its clothes are now weave), a thinner windscreen, one-piece bonnet/wings/bumper, a flat underfloor, new rear Venturi – there's a lot of change. Not to the engine though: that's been left mostly alone at 631bhp and 416lb ft of torque from the naturally-aspirated 5.2-litre V10. That's 8,500rpm of old-fashioned, non-hybrid, unforced-induction, and with exhausts that sound like they were manufactured in a factory where everyone is partially deaf, it's quite the thing.
Although – as previously mentioned – it is not subtle. There are NACA ducts and snorkels and sticky-out bits all over it. The roof scoop, by the way, feels flimsy and only ducts cooling air into the engine bay rather than acting as ram-air for the induction system, and the yellow stickers and general 'look-at-me' of the STO makes you suspect it might be all mouth and no trousers. It's loud both visually and aurally.
So a bit of a disappointment on track then?
Well, Chris Harris got out of it saying it was 'the best Lambo I've driven in ten years' and with a smile on his face that was half schoolboy excitement and half slight confusion. He definitely wasn't expecting it to be as much fun as it was. And despite all the chintz, the STO is a car to savour when you do get it to a circuit, and not just because you don't have to look at it when you're sitting on the inside.
First up, it does actually feel much lighter than the numbers would suggest, and more connected than any road-going Lambo really should. It's got wider tracks, stiffer bushes, different anti-roll bars and retains the rear-wheel steer system, as well as having revised MagneRide adjustable dampers. And you feel all of that pretty much immediately – the super-direct fixed-ratio steering dials straight into your wrists, and the car feels accurate at 20mph. Admittedly, we're not overly concerned about ride-quality on the Top Gear Test Track, but we do have a selection of Nürburgring-esque lumps and bumps scattered around, so a car that bounces or lacks damping gets scary very quickly. And the STO simply doesn't.
Advertisement – Page continues below
Fun, or terrifying?
The best of both, really. The STO is to track days what musical theatre is to acting. Flamboyant, expressive, a bit OTT, but joyous and raucous and fun. The engine blatantly dominates proceedings, doling out power like it's trying to get rid of it as fast as possible, wailing all the way past where you think you should change up a gear and into ear-bleed territory. It's loud. But despite such theatrics, it would be unwise to underestimate the speed at which you're moving – the STO attacks a corner like a Labrador given free rein at a buffet; it inhales Dunsfold in one, big, sweeping roar. You'd be kicked off the average trackday for noise limits within two corners.
In fact, the grip from the Bridgestone Potenzas in all phases – braking, cornering and exit acceleration – makes you feel like the STO could quite happily handle a little more power, even being two wheel drive. Sounds a little odd to say that, given that the STO hits 62mph in three seconds dead and 124mph in nine, but wide-open circuits shrink the viscerality of the performance. Still, it's hitting 115mph+ into the braking zone of Hammerhead even in my ham-hands. And the braking is just as impressive as the going. Although the braking performance from the Brembo carbon-ceramics is a bit tricky to modulate smoothly at normal speeds, once you get brutal with them, you can stand the STO on its nose time and time again and not fear for the integrity of your underwear. In fact, this is another car that thrives on being thrashed; the harder you drive, the more the STO comes alive.
As for the rest? The 'box is snappy and good enough that it blends into the experience, and the whole car has a delicious feeling of balance. And that balance breeds confidence. Not many roadgoing cars are very good on track, no matter what the marketing blurb says – but the STO gets 90 per cent there. Something that quite a few cars surprised us with on-track in this year's Speed Week.
This sounds foolproof.
You would think that, yes. But you'd be wrong. Having watched Ollie Marriage and Chris Harris delight in drifting the STO for the entirety of Hammerhead (and beyond), and having bodged my way through a few corner-exit powerslides (rather than pre-apex sideways), I abandoned my attempts at neat'n'tidy-equals-fast, and started launching the STO into a few corners to see what it could do. And it bit me. Turn in, grip, quick blare of the V10 to step it sideways and then manage the drift. All was fine until I asked for one extra bhp, and then I was thudding the lockstops, shouting 'aaaaargh?' at the steering wheel and facing in the wrong direction. The mechanical diff that was helping me out before suddenly defecting. The STO might be more mannerly than a pure GT racer in some respects, but when you step across that line, the teeth are sharp and pointy. About half way through the rotation, you remember that a lot of mid-engined stuff swaps ends faster than you can think 'I hope the photographer isn't looking'.
Thank you for subscribing to our newsletter. Look out for your regular round-up of news, reviews and offers in your inbox.
Get all the latest news, reviews and exclusives, direct to your inbox.
Where does that leave us? Is it good or not?
At £260 grand, the STO is a decent daily driver more than the Performante. But then a McLaren 765LT is 280, and an AMG Black £335,000, so it's not the most ridiculous pricing ever. Plus, the kinds of people interested in this car aren't likely to have an overdraft that they're aware of. And there's just something absolutely mental about Lamborghini making a car that is so compromised for the road, just so that you can drive it to the track and stay with stuff that comes with slicks and a trailer. This side of an Aventador SVJ – which is likely slower but completely bonkers – the STO provides the kind of slightly silly, joyous driving experience that feels like it's about to hit its nadir. Cars like this won't survive – and they certainly won't be the fastest things available if they do – but for the sheer thrill of driving, of hearing a piston engine scream its way past 8,000rpm, the STO is absolutely magical. Ok, so it's a bit of a clown in the way it looks, but order one in a slightly less in-yer-face colour scheme, and this is one of the best, most exciting, least po-faced cars Lamborghini has ever produced. It doesn't take itself entirely seriously, and it's the better for that.
Photography: Mark Riccioni