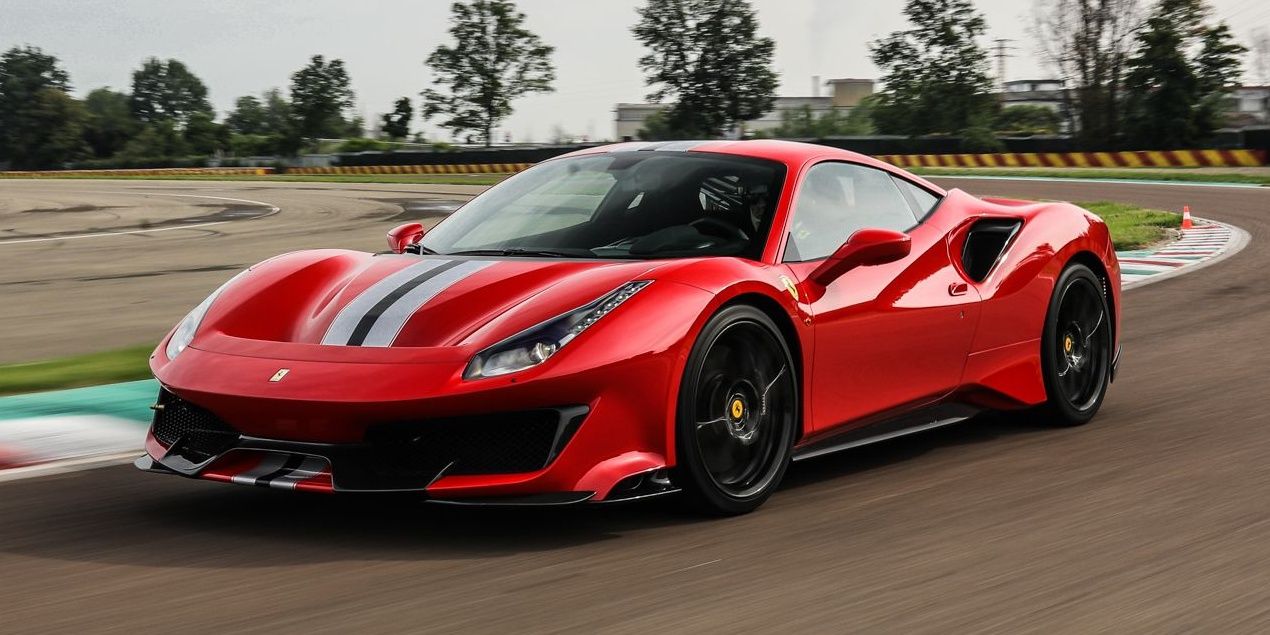 Here's How The Ferrari 488 Pista Fares Against The Competition
The supercar market seems to get more and more crowded every year, with new manufacturers
The supercar market seems to get more and more crowded every year, with new manufacturers springing up and trying to steal some of the limelight from the big players. One of the oldest names in the supercar game is Ferrari, and their 'junior' supercar model from 2018 to 2020 was the 488 Pista. It's based on the underpinnings of the previous-gen 458 Italia, and the visual similarities are easy to spot.
RELATED: Ferrari's Coolest One-Off Sports Cars
So can it compete in today's market? Well, there's only really one way to find out, and that's to break down the 488 Pista into its key specs and see how it compares to what else is on offer right now. It has a range of big-ticket rivals from the likes of Lamborghini and McLaren, but it's also worth seeing how it stacks up against other, newer, Ferrari models like the F8 Tributo and SF90 Stradale. So, without further ado, let's take a closer look at the Ferrari 488 Pista and see how it fares against its competition.
8


Power
The 488 Pista sports Maranello's most powerful ever V8 engine, mostly thanks to the fact that it's now turbocharged rather than naturally aspirated like the 458 Italia. It makes a total of 711 hp, which puts it right up at the top of the field in terms of raw numbers.
For comparison, a McLaren 720S makes an identical horsepower figure, as does the 488's newer sibling, the Ferrari F8 Tributo. In reality, these figures are more than most drivers will ever need, and even on a track most will struggle to reach the upper limits of their car's capabilities.
7


Handling
Ferraris have always had a reputation as some of the best handling cars on the market, and so the 488 Pista has big shoes to fill. It fully delivers, with a precise and smooth character both on the road and on the track. Not only that, but Car and Driver reports that the 488's ride quality is surprisingly liveable, and so buyers could in theory make this their daily driver if they wanted to.
This combination of daily drivability and high-speed performance sets the 488 apart from its rivals, who tend to focus on one or the other. In particular, many supercars focus on performance at the cost of being refined on the road, and in fact, some older supercars have become notorious for being terrible to drive on public roads.
6


Style
There's no doubt about it: the 488 Pista definitely looks the part. It's every bit as much a traditional Ferrari as an Enzo or an F40, even though it's not an entirely new design. That's because the 488 and its predecessor the 458 share the same chassis, and therefore have very similar dimensions.
RELATED: Everything You Need To Know About The Rise Of Ferrari
Still, the 488 remains modern, and certainly doesn't look like it needs a refresh despite sharing a chassis with a car that debuted in 2009. It's doesn't look quite as visceral as the likes of the Lamborghini Huracan Evo, and it's not quite as distinctive as, say, a Ford GT. But, the 488 can certainly hold its own in a crowd of supercars, and it's almost guaranteed to become a future classic just from its looks alone.
5


Rarity
It's not a factor that crosses the majority of regular car buyers' minds, but for supercar owners, rarity is an important factor to consider when purchasing a new vehicle. After all, when spending that much money on a car, most buyers will be keen to make sure their new acquisition stands out.
This is where the 488 Pista falls down a little: in many ways, its success is also its main drawback. Ferrari has kept the exact sales figures of the Pista private, but figures from the 488 GTB variant suggest yearly sales of close to 1,500 units in Europe alone. That means the true global output of the 488 is likely to be several thousand cars per year, which makes the car one of the most common supercars around.
4


Prestige
Alongside rarity, prestige is another key factor that's important to any supercar buyer. It's something that brands like Maserati have struggled with for years, as their lackluster brand image has meant a lack of prestige and that's hurt their sales. Ferrari on the other hand has no such problems, as they've remained one of the most prestigious names in the game for decades now.
Really, the last time their image took a dip was their run of slow, unimaginative cars like the Mondial in the '80s, but really since then, it's always been prestigious to buy a Prancing Horse. Perhaps even more so than buying a supercar from a more obscure brand, as even non-gearheads will be well aware of Ferrari and the weight their name carries in the car world.
3


Price
A 488 Pista starts at $331,000, although there's of course plenty of optional extras that can increase that figure by several tens of thousands. In comparison, a Lamborghini Huracan starts at just $214,866, with the Spider costing slightly more at $233,423.
RELATED: These Are The Strangest Mid-Engine Supercars We've Ever Seen
A McLaren 720S will cost $301,500, and a Ferrari F8 Tributo will cost $280,000. In that context, the Pista is far from the best value supercar on the market, although it's reasonably priced compared to most of its competition.
2


Options
A car like the 488 needs to be customizable to its owner's taste, and Ferrari gives buyers plenty of options to do just that. There's a suite of options for the interior upholstery, from the traditional black leather to a bright red leather-and-suede setup that's as unique as it is weird.
There are also the usual upgrades like ceramic exhaust pipes and painted brake calipers available, which in true Ferrari style, all cost a fortune to option in. Really, there isn't anything to differentiate the 488 from most of its other supercar rivals in this area, but it's certainly got a big enough options list to please all but the choosiest of buyers.
1


Reliability
No one is buying a supercar for its reliability alone, but equally, no one wants to spend $300,000 on something that'll leave them embarrassed and stranded at the side of a highway. Ferrari's reliability figures don't paint a great picture here, with a UK study by Warrantywise putting them as the least reliable manufacturer of all.
They're behind McLaren, Lamborghini, and Bentley in the reliability standings, and way behind the likes of Porsche and Aston Martin. So, it looks like owners of the 488 Pista will likely have to put up with a few more breakdowns than most of their supercar owning friends, but hey, no car is perfect, whether it's a Ferrari or not.
10 Rare Sports Cars That Are Still Surprisingly Cheap
Whether they were unappealing or just slid under everyone's radar, these rare sports cars really shouldn't be as affordable as they are now.
Read Next
About The Author