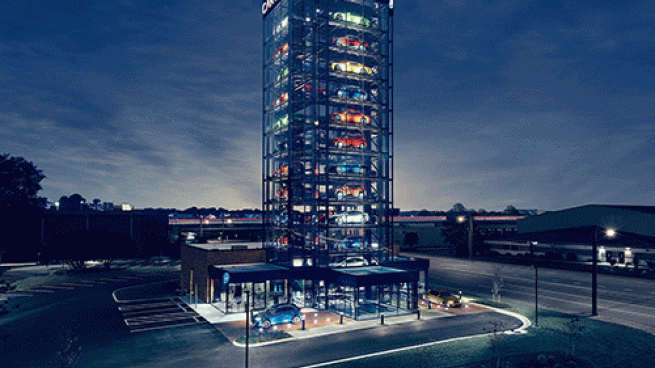 Carvana unveils latest 'car vending machine'
Carvana is opening its 30th automated location for picking up online vehicle purchases. The omnichannel
Carvana is opening its 30th automated location for picking up online vehicle purchases.
The omnichannel platform for buying and selling used cars is launching its 30th car vending machine, situated in Richmond, Va. The red brick-and-glass structure stands 12 stories tall with a 43-vehicle capacity and serves as an automated fulfillment center for online car purchases.
The vending machine, the first Carvana has opened since introducing a "car slot machine" in Las Vegas in February 2021, is designed to offer a fast and convenient pickup option for customers who purchase a vehicle on the Carvana omnichannel platform for buying and selling used cars.
Customers can use the Carvana online platform to shop more than 55,000 used cars for sale; secure auto financing; use a digital car loan calculator; and purchase, trade-in, and schedule as-soon-as-next-day vehicle delivery in as little as five minutes. 
In addition to home delivery, Carvana customers in Richmond and other markets with a car vending machine can also choose to select a day and time convenient for them to pick up their vehicle at the automated car dispensing location. Upon arrival, they will be greeted by a customer advocate and receive a commemorative, oversized Carvana coin to activate the automated vending process and watch their vehicle descending through the brightly lit structure from inside the all-glass tower.
Carvana gives customers a high-definition, 360-degree virtual tour of every vehicle, inside and out. Carvana vehicles have passed a rigorous 150-point inspection, have never been in a reported accident and have no frame damage. Features, imperfections, and updated information about open safety recalls are listed on every car's vehicle description page.
All 55,000-plus vehicles in Carvana's national inventory come with a seven-day return policy; as opposed to a traditional test drive. According to Carvana, this ensures customers have the right amount of time to determine if the vehicle fits their needs.
Customers can also sell their current vehicle to Carvana and receive a real offer in as little as five minutes, without having to purchase a vehicle. To sell a vehicle, customers enter their VIN or license plate number on Carvana.com, answering a few questions, and then Carvana can pick up the vehicle and bring them a check, as soon as the next day.
In addition to opening its newest car vending machine in Virginia, Carvana also recently began operating in Iowa for the first time, offering soon-as-next-day home delivery of vehicles from its site in the Des Moines market.
"Richmond is now home to our 30th car vending machine, one of the tallest we've ever built," said Ernie Garcia, Carvana founder and CEO. "This homage to Richmond's distinguished historic district showcases our fun, customer-centric car buying experience and we look forward to continuing to deliver exceptional customer experiences here for years to come."
The newest car vending machine is the first of its kind in Virginia. Additional car vending machines are located in Utah, Nevada, Kentucky, Tennessee, Texas, Florida, Maryland, Arizona, Ohio, Pennsylvania, Indiana, Illinois, Missouri, North Carolina, Oklahoma, California, Michigan and Georgia. Carvana operates in over 300 U.S. markets.