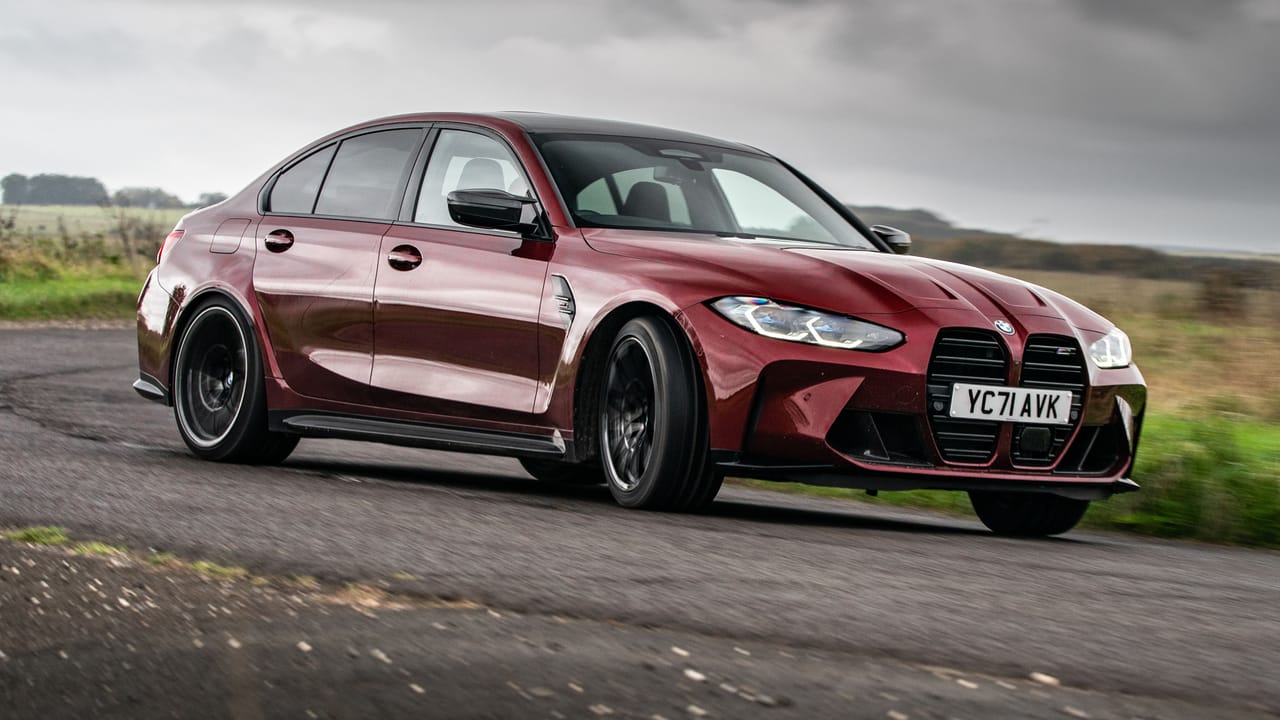 BMW M3 Competition xDrive review: 4WD super-saloon tested Reviews 2021
Do you need the 4WD M3 then? Straight to the point as ever. However, I
Do you need the 4WD M3 then?
Straight to the point as ever. However, I can answer the 4WD vs RWD conundrum quickly. With another question. How much do you value peace of mind? A sense of security? Because that's the only real reason to choose the 4WD one.
Come again?
The standard M3 is not short of either traction or precision. Yes, even in the wet. Such is the grip at the front wheels and the cleverness and control of the rear differential, that the bog standard M3 drives out of all but the tightest corners with amazing force. Roundabouts. Dieseled roundabouts. That's the one thing you might encounter every day where you'd feel the benefits of the xDrive system.
Advertisement – Page continues below
I drove the £78,425 M3 xDrive for three days and not once did it ever feel 4WD. There's no badging on the outside to tell you, and in everyday driving it feels no different. The steering still has the same slightly blunt, but utterly confidence inspiring feel. Maybe it accelerated down a damp slip road cleanly where I might have expected the rear-drive car to throw a traction light at me. But on the whole there's not much to tell them apart. Until you really open the taps.
And then?
Let's deal with the practicalities first. The system costs around £2,500 to add to either the M3 saloon or M4 coupe. It also heralds the arrival of the 4WD-only £81,915 M4 Convertible. It exerts a 50kg weight penalty, but it's not like the new 1,730kg G80 M3 Competition is a lightweight anyway.
The reason you can't tell it's 4WD is that most of the time it isn't. It's rear-drive until the electronic diff on the rear axle decides it can't cope any more, at which point the multi-plate clutch in the transfer box closes and sends whatever power it deems necessary forwards.
Ah, power! Does it have more than the standard M3?
Nope, the 3.0-litre twin turbo is exactly the same, developing 503bhp and 479lb ft and sending that towards the wheels through an eight speed auto gearbox. No twin clutch here, remember.
Advertisement – Page continues below
What has changed is the acceleration. Peerless traction pretty much from standstill means no scrabbling for grip, so the xDrive wipes 0.4secs of the 0-62mph time, which is now 3.5secs. The gauntlet for the next-gen Merc-AMG C63 (also 4WD, don't forget) has been thrown down.
Are there modes to play with?
There are, and you will spot a theme. When you go into the menus to set up the M1 and M2 buttons on the steering wheel, one of the choices is to select between 4WD, 4WD Sport and 2WD. BMW says standard 4WD is 'rear-biased' and in 4WD Sport 'drifts are possible'. The same is absolutely true in 2WD obviously.
BMW is clearly keen to emphasise which wheels do the lion's share of the work in the new M3 xDrive. The interesting thing is that to even be allowed to have 4WD Sport you have to ramp the settings up a long way, and to get 2WD mode, everything has to be fully disabled. DSC off, full brave pants.
Maybe this is BMW's way of making money through repair costs.
Possibly, but all is not what it seems. Because once you get to 2WD mode, you now, if you've added the M Traction option, have a secondary ten-stage traction control a la AMG GT R. So even once DSC is off, a magic electric hand is there to help save you if you choose. Maybe BMW's legal dept realised after the latest M5 that having an 'you're on your own, sunshine' mode wasn't the best plan. If you don't option M Traction, on your own head be it.
Thank you for subscribing to our newsletter. Look out for your regular round-up of news, reviews and offers in your inbox.
Get all the latest news, reviews and exclusives, direct to your inbox.
Can we get back to the driving now?
We can. We've always liked BMW's xDrive system, because even in regular 3 Series' it's smooth, progressive and rear-biased. Nothing's changed. It's very well integrated and copes seamlessly with the considerable power being fired through it. No big tugs at the wheel as you accelerate hard in second out of roundabouts, just a sense that everything's moving forwards instead of sliding sideways.
In fact, that's an interesting point, because even when it's sliding sideways the rear-drive M3 is always moving forwards. The rear diff is uncanny for its ability to distribute torque without losing momentum. You always come out of corners faster than you think. xDrive just exaggerates that.
Does it feel less playful now?
Not at all. In fact BMW does admit that it has adjusted the suspension and steering ratio a little (exactly what's been done they won't say, but obviously it's had to redesign some components to fit the front driveshafts). You maybe notice a fraction of extra weight – or at least less eagerness – on turn in, but it settles every bit as well as the regular car and the rear-end is just as accurate as you begin to accelerate out.
If anything it felt a little bit sharper – and I can be pretty confident in that given I was driving it back to back with our rear-drive long term M3. I'll tell you more about that tomorrow.
How's the overall package?
It's a firm and relatively uncompromised sports saloon. Same as the rear-drive version. Wonderful seats and driving position, bit of jiggle but otherwise consumes long journeys with ease. Low speed ride around town is harsh. All the kit you'd ever need (the UK only takes the higher spec Competition versions don't forget – hence the lofty £75k starting price and no manual gearbox option) and it's mostly fathomable. Or at least there are enough buttons about the place to help you out.
It'll do 32mpg once warmed through and taking it easy, 25mpg in an enthusiastic mix of driving. And it'll get itself down difficult roads with utter, implacable determination. It's riotously fast once you've got past a bit of inevitable low rev torpor. Watch out for putting the gearbox in manual mode, cruising on a motorway in eighth and then wanting a snap of acceleration. You'll be needing three downshifts to make much happen.
Would you have it over the rear-drive version?
Yes, but only because of what I said earlier about wanting the extra sense of security and all-weather usability. There's just not much of a drawback to the xDrive – extra cost aside. The Audi RS4 has had this corner of the market to itself for far too long and this M3 is a far more convincing drivers' car than that. Then again what I really want is an M3 xDrive Touring. That comes next year.