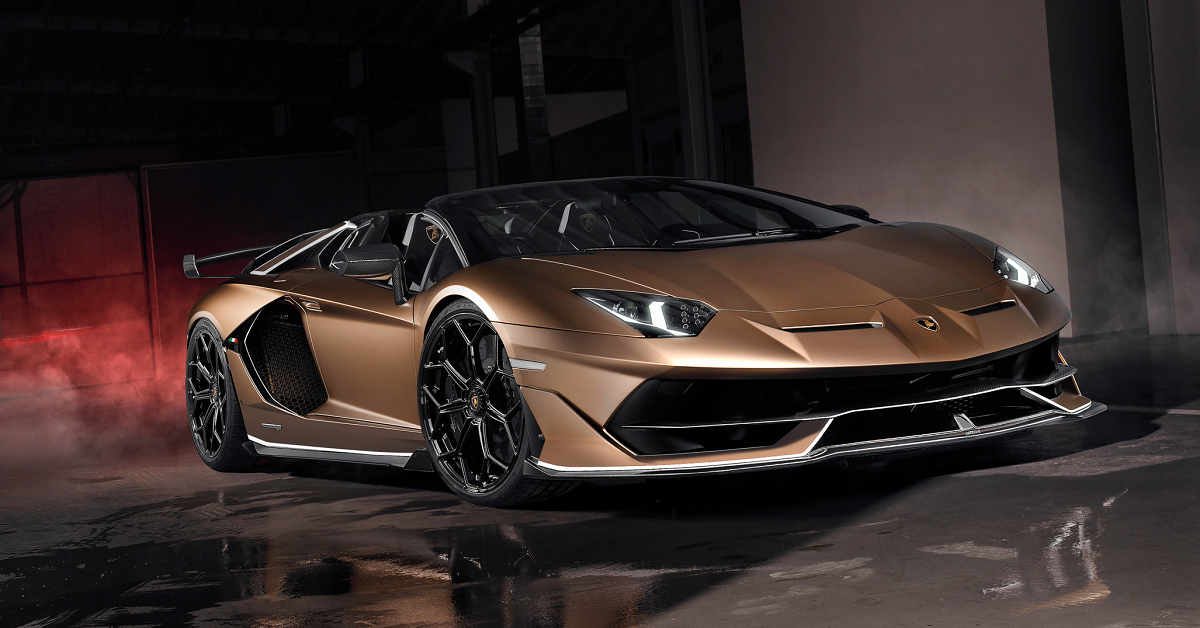 8 Rules Every Lamborghini Owner Needs To Follow
Owning a supercar is a dream come true for many and a Lamborghini tops the
Owning a supercar is a dream come true for many and a Lamborghini tops the list of those #cargoals for a good percentage of drivers. And while steep price tags are definitely an obstacle to ownership, it isn't the only downside of buying a Lamborghini.
Once they drive off the lot, Lamborghini owners face other challenges they must live up to. While some responsibilities are just a matter of fact, others are unwritten rules that are imposed by the brand or fellow owners. Here are just some of the many rules that a Lambo owner must follow.
8

Earn An Annual Salary Of At Least Half Million
Having deep pockets is the first rule and a non-negotiable factor in Lamborghini ownership. Let's face it money talks and in this case, cash buys exclusivity. For 2021 sales, it is estimated that an annual salary nearing $500,000 is required for an outright Lamborghini purchase.
When looking at the U.S. population, Bloomberg reports that only the top 1 percent of households has an income of half million a year. This only underlines how exclusive Lamborghini ownership is.
Related: 10 Coolest Lamborghini Concepts Everyone Forgot About
7

Have The Bankroll To Maintain The Purchase
Big dollars don't stop with the purchase of the Lamborghini. That's only the beginning of the expenses for the Lambo owner. Annual insurance costs can burn another $7,000 out of pocket.
While maintenance varies on model and year, annual costs to just maintain a Lamborghini can rival that of the entire price tag on a new C8 Chevy Corvette. According to e25 Supercar Club, a three-year cost to own a Lamborghini Aventador S is estimated at $260,000 or roughly an average of $87,000 per year.
Related: Football Star's Lamborghini Crashes After He Loaned The Supercar To A Friend
6

Learn To Get In And Out Or Risk Being The Butt Of A YouTube Video
The "butt-first" sit or the "supercar sit and spin" is a must-know for all Lamborghini owners. This is one of those "if you know, you know" situations. Basically, to get in and sit down, the driver must back into the doorway, sit butt-first into the seat with both feet still planted on the ground, then spin, swinging both legs into the cabin. With the seat slightly lower than the floorboard, lifting feet over the door frame will avoid scuffing any panels.
When exiting a Lambo, the process is reversed: spin and swing both feet out of cabin, plant on the ground and simply stand up. This may take a practice run or two; however, this move quickly becomes second nature to an owner. For those not in the know, a wrong turn at entry can potentially result in a starring role in a YouTube fail video.
Related: 6×6 Lamborghini LM002 Is One Glorious Way To Trick Out The Rare Super SUV
5

Relearn Cockpit Controls
With the number of instructional posts and videos that cover "how to put a Lambo in drive" it is fairly obvious that it is a must-learn for a Lamborghini owner. As explained in these information tips, there is no visible "D" for drive on the console or shown in the cockpit.
The Drive option is low-key hidden for the Lambo owners and another one of those #IYKYK situations. The secret sauce – release the parking brake and pull the right-side paddle shifter towards the steering wheel. When a "1" shows on the driver's display, the car is in drive.
4

Don't Expect Cup Holders
Most Lamborghinis don't offer the convenience of a cup holder. Maybe considered a minor detail for some; but who doesn't want a place to store their Starbucks while they commute to work in their supercar?
According to Luxury Viewer, Lamborghini offered an exclusive package as an upgraded option that added a cup holder to the 2020 Huracan. It is shown here in the Lamborghini Huracan EVO Spyder, hidden in the glove box. Overall Lambo owners should not expect a cup holder, because they are rare. However, they did become a standard feature for the 2021 Lamborghini Urus.
Related: The Lamborghini Veneno Roadster Has An Awesome V12
3

If It Doesn't Have Scissor Doors, Don't Change Them
Many of us associate the scissor door (butterfly door) with the Lamborghini. That is, of course, how the scissor doors earned their nickname "Lambo doors." However, that doesn't mean all Lambos have them.
In fact, Lamborghini reports that, after the innovation of the upward opening door on the Lamborghini Countach, only Lambos with the V12 continued the design, and just because the owner longs for the "Lambo door," it doesn't mean they can change them out. Not only would a Lambo door change out be frowned upon and devalue the supercar, but it is an unwritten rule that owners avoid such drastic mods.
2

Don't Buy A Ferrari
Okay, this is another unwritten rule; but it can be frowned upon for Lamborghini owners to buy a Ferrari. That being said, in the end – money talks.
Because cash is king, it wouldn't be fair to say that there has never been a Lambo owner that parked a Ferrari in their garage or vice versa. But it is also known that there is a strict vetting process to buy a Ferrari, and if you are a registered Lambo owner, you may never get the keys.
1

Want An EV Lamborghini? Be Ready To Wait
A Lamborghini press release dating back to 2019 reports the company as "the first electric motor in the world powered by supercapacitors". That was touted as their innovative hybrid system on the few-off Sian FKP 37.
With that, we know that electric has been on Lamborghini's radar for some time, however, an all-electric one is still at least five to six years out or longer. They do expect availability for a plug-in hybrid in late 2024.
Watch A Ram TRX Jump Over An $800,000 Lamborghini Aventador SVJ
The performance pickup goes off-road to fly over the exotic super car
Read Next
About The Author